ProCrete creates custom designs for your home or business.
ProCrete Paver and Hardscaping Solutions

ProCrete Complete Exterior Designs

Add Value to Your Home

Complete Backyard And Pool Deck Design

Professional Services
Traditional Concrete: Footings, Curbs, Aprons, Pool Decks, Porches, Patios, Steps, Sidewalks, Walkways, Driveways

Colored & Stamped Concrete: custom stamped concrete designs; Exterior & Interior Applications; Any Pattern Available; Concrete & Paver Combinations

Block & Brick: Foundations, Basements, Piers, Columns, Grade Beams, Chimneys, Retaining Walls, Fireplaces and any other Interior or Exerior Application

Veneer Stone: Cut Stone, Ledgestone, EZ Fit, Thin Brick, River Rock, Split Rock, Pennsylvania Field Stone and Finish Pieces

Natural Stone: Pennsylvania Flagstone, Travertine, Belgium Block, Dry Stack Wallstone, Limestone, Sandstone and any other Interior or Exterior Application

Hardscaping for Driveways, Walkways, Patios, Retaining Walls, Edging & Borders, Steps, Garden Walls, Fireplaces, Outdoor Ovens, Chimneys, Fire Pits, Paver Sealer, Polymeric Sand, Bristol Stone, Devonstone, ECO Line Pavers, Imperial Pavers and Walls, outdoor living, landscape design, brick paver patios, outdoor kitchens, fire pits.
About ProCrete
We are a full service concrete, masonry and hardscaping contractor that specializes in custom projects for your home or business. Our business has been satisfying customers in the South Jersey Area for over 25 years. Whether it is New Construction, Renovations or Restoration to existing surface we guarantee you will receive a result that you can be proud of.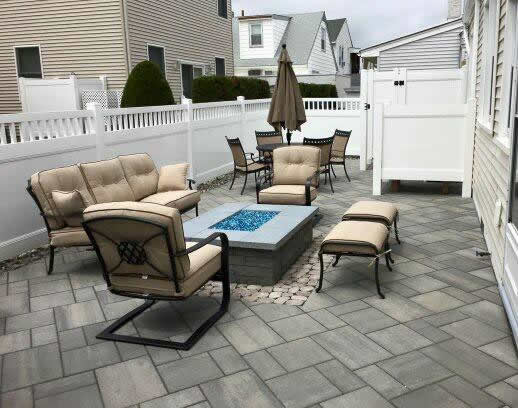 OUR APPROACH
Our goal is to provide superior customer service and craftsmanship on every project by listening to the needs and wants of our clients. We develop a one of a kind plan based on our clients needs and the project requirements. An open line of communication is kept throughout the construction process to ensure the project is completed with 100% satisfaction so that the end result meets or exceeds all expectations.
OUR HISTORY
ProCrete was created from a real passion for the work we perform. The business was started by Mike McBride 25 years ago. From the beginning, Point Concrete, as the business was known, has provided premier concrete, masonry and hardscaping solutions to its customers just as it does today.
Over the years we have gained knowledge and experience while serving the South Jersey homeowner and small business person. Family owned and operated, ProCrete has developed into a strong, knowledgeable business that has the capability to provide stunning results.